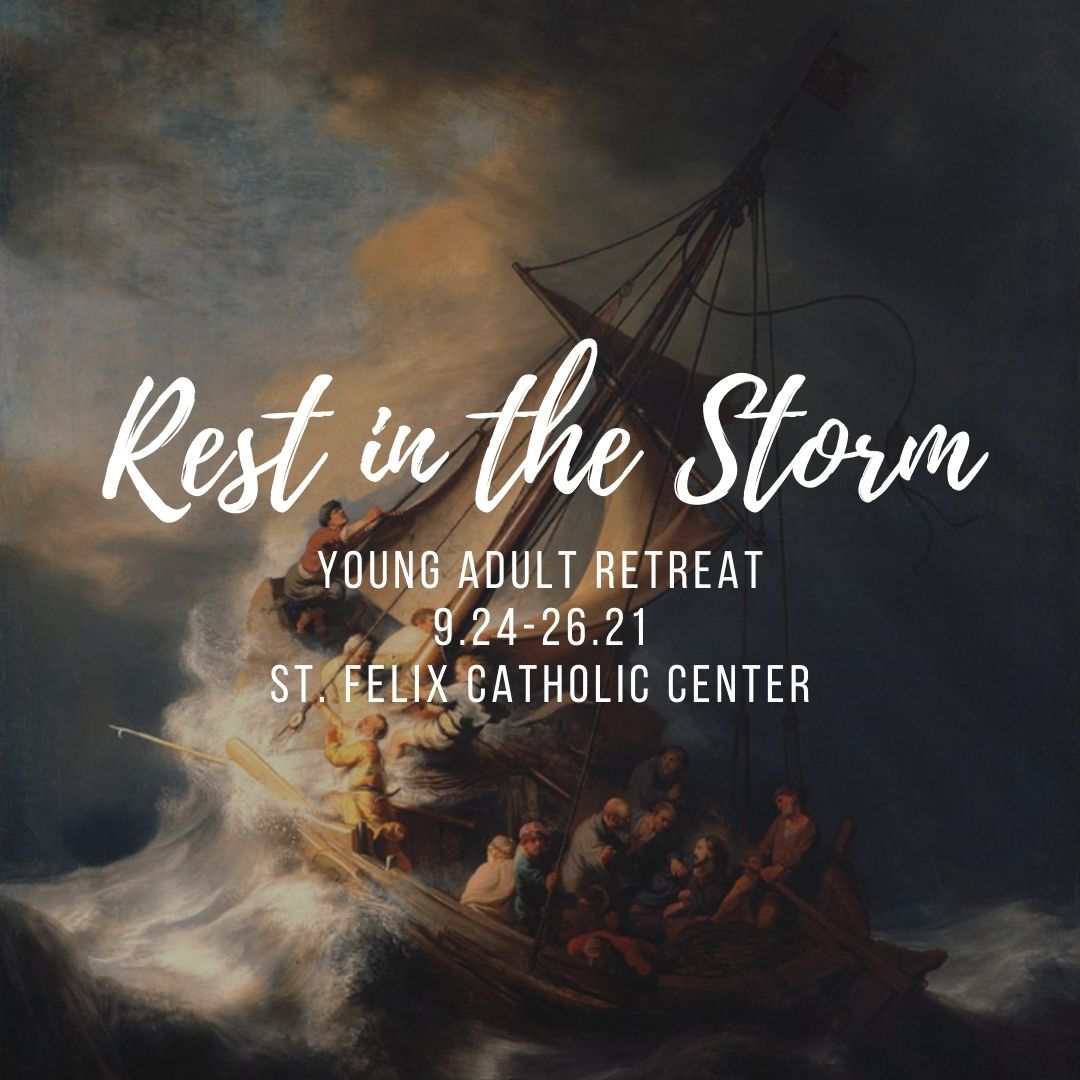 Young Adults are invited to join us for a retreat at St. Felix Catholic Center from Friday evening through Sunday morning, September 24-26, 2021. The retreat will focus on how to find rest amidst the chaos of life. It is a time to withdraw from everyday hustle, to spend time with God, and to build a stronger community of faith. 
Who?: Young Adults (age 18-35)
When?: Friday, Sept 24 at 7:45pm (check-in window is from 6-7:30pm) to Sunday, Sept 26th at 12:45pm
Where?: St. Felix Catholic Center, formerly a Franciscan friary and decade-long home of Blessed Father Solanus Casey, now a beautiful retreat center tucked away from the bustle. Address: 1280 Hitzfield St. Huntington, IN 46750
Cost?: Flexible, Suggested donation $100 (pay as you are able).
Register in 2 steps:

1.) Complete the Google Form by clicking here.
2.) Pay by Paypal: https://www.paypal.com/donate?hosted_button_id=DNJP7KDKG7ENC
Or you can pay by check or cash, make checks payable to St. Charles Church and be sure to put your name somewhere in or on the envelope, mail that form of payment to: 
St. Charles Church 
ATTN: Stacey Huneck
4916 Trier Rd
Fort Wayne, IN 46815
Brief Schedule Overview (Subject to change)
Friday
6-7:30pm Check-in
6:30pm Traveler's Daily Mass Available at St. Felix with Fr. Patrick Hake, pastor of St. Peter's Fort Wayne
6:30-7:45pm Snack & Social (charcuterie and mulled cider)
7:45pm Welcome & Opening Prayer
8:15pm Opening Talk: Finding peace in a crisis of faith- Chad Smith, Theology teacher at Bishop Luers High School 
9:15pm Discussion
9:45pm Bonfire or games
11pm Night Prayer
Saturday
(8am Optional daily Mass at nearby parish St. Peter & St. Paul)
8:15am Morning prayer
8:35am Breakfast
9:30am Talk: Rest from the World- Monica Markovich, Vice President for Finance at Holy Cross College
10:15am Dive into Scripture, Lectio Divina
10:45am Discussion
11:30am Rosary Walk
noon Lunch (provided by the St. Charles Knights of Columbus council 451)
12:45pm Talk: Finding Rest in Repentance- Anthony Moore, Knights of Columbus and former U.S. Marine Corps
1:45pm Confession (Fr. Dennis DiBenedetto, Fr. Tony Steinacker, and Fr. David Violi) 
2:30pm-5:00pm Free time (A good time to do some homework if you're a student, there is WIFI in parts of the building)
(Tentative, optional service project 2:45-3:45pm)
(Optional anticipatory Mass for Sunday obligation 4:00pm at nearby parish St. Mary's, for anyone who cannot stay through closing Mass on Sunday)
5:00pm Discussion
5:30pm Dinner (Pasta from Pizza Junction and salad)
6:30pm Talk: Resting in the Eucharist- Sr. Benedicta Duna, OSF, Assistant Director of Campus Ministry at the University of Saint Francis
7:30pm Holy Hour in Adoration led by Fr. Nathan Maskal, pastor of St. John the Baptist, New Haven, former parishioner of St. Charles Parish
8:45pm Discussion
9:15pm Bonfire or games
10:30pm Night prayer
Sunday
8:30am Morning prayer
8:50am Breakfast
9:45am Workshops:
-Understanding gifts & discernment
-Outreach/growing Christian community
10:30am Discussion in Workshops
11am Talk: Carrying Christ with you back into the storm, leaving the eye of the hurricane- Kia & Alex Zembala
11:45am Closing Mass with Fr. Dan Koehl, parochial vicar of St. Charles Fort Wayne and PFW Chaplain
12:45pm Depart
Packing List:
-You may desire to bring an extra pillow if you're a two pillow kind of person, but bedding including sheets and a blanket is already provided. 
-Bring your own towel & toiletries
-Optional: shower shoes (bathrooms are very nice & modern, but they are communal)
-If you have a journal, rosary, or Bible you like to use, pack them
-What to wear? You will find yourself most comfortable in casual clothes. 
-Comfortable walking shoes are recommended.
-Depending on the weather in late September: a sweatshirt if it is cool, especially for time around the bonfire
-There is A/C and WIFI in the main rooms, but not in the bedrooms. Temperature can be well-regulated with the window to let the breeze at night. 
-The boiler system keeps the building warm on cool days, but it can take awhile to heat up. If you're cold. let us know so we can address it sooner than later!
-If it is a cool weekend, you may desire an extra blanket, there are a few at the retreat center, but if you have a favorite blanket to travel with, you're welcome to bring it.
-Each person has their own room, but we can permit one roommate to sleep on the floor, if requested and necessary due to a specific need. You may be responsible for moving the sleeping floor mat from the storage room and back. 
-Volleyball, basketball, soccer ball, football, or any sports equipment you may want to use during free time
Questions? Contact Stacey Huneck by email youngadults@scbfw.org