Check in for Week 4 here!!
---
College Crew is a ministry outreach to all college-age young adults that creates a space for your faith to be fostered through the summer (you do not have to actually be in college to attend).
Our 2023 series begins on May 15!! We will gather every Monday evening from 7:15-8:45pm from May 15-June 26.
Our theme this year is "Unum est Necessarium" which means "only one thing is necessary" in Latin. This comes from the story of Mary and Martha in Luke's Gospel in which Jesus says to Martha, "There is need of only one thing. Mary has chosen the better part and it will not be taken from her." We chose this theme because in the midst of all the busyness of school, work, family, friendships, and a million other commitments, it's easy to take our eyes off of Jesus and focus only on the things that we have to do. This summer, we are going to dive into what it means to have a rightly ordered life and how to invite God into even the most mundane of experiences and make them holy.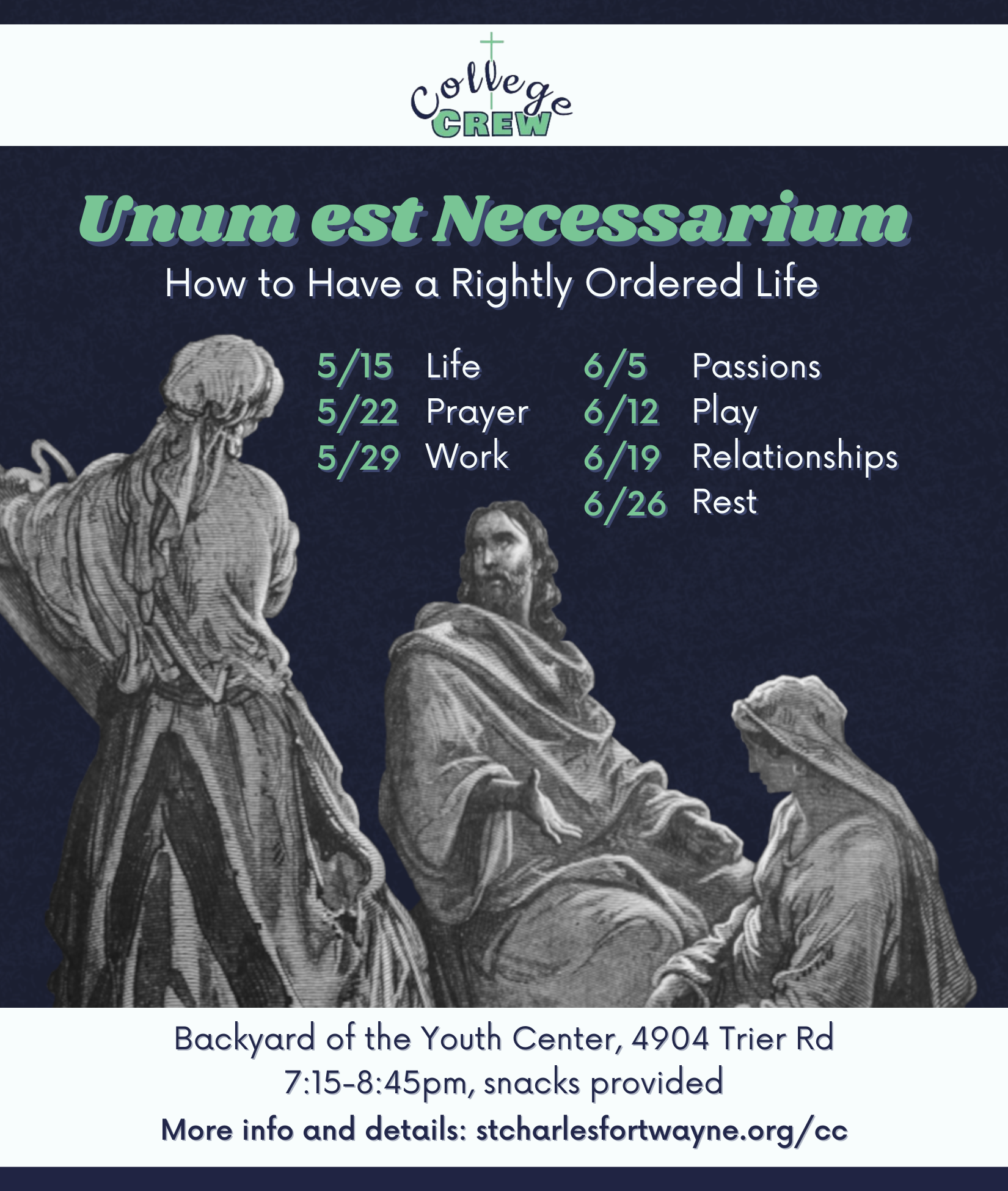 Weekly Topics and Speaker Lineup
5/15 - Rightly Ordered Life - Sr. Maria Gemma Salyer, OSF
5/22 - Rightly Ordered Prayer - Anna Laisure
5/29 - Rightly Ordered Work - Dcn. Rob Lortie
6/5 - Rightly Ordered Passions - Emma Peat
6/12 - Rightly Ordered Play - Ali Kloska

6/19 - Rightly Ordered Relationships - Dr. Kristine DiScala
6/26 - Rightly Ordered Rest - Fr. Tom Shoemaker
College Crew is hosted in the backyard of the Youth Center: 4904 Trier Rd (Rain location is the church gathering space). We gather for fellowship, food, games, talk, and prayer. There is no charge to participate in this event.
Follow us on Instagram or Facebook @collegecrewfw
Questions? Dietary needs? Contact ym.associate.scbfw@gmail.com