High School Retreats at St. Felix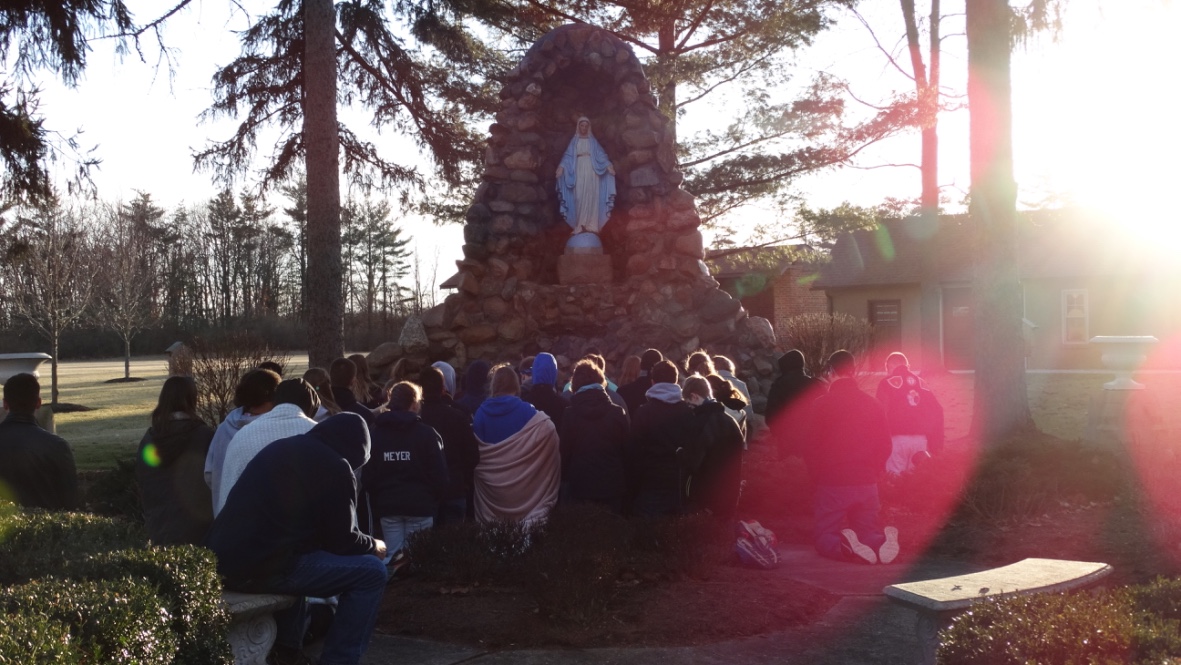 Our youth group travels to St. Felix Catholic Center in Huntington twice a year for retreats. 
Our spring retreat is scheduled for Friday, April 12th- Sunday, April 14th. 
Click here for a registration form!

Links to Steps 1 & 2 of registration form are below (copied from the downloadable registration form, you still must download the registration form in order to print the St. Felix waiver.)
Register as soon as possible. Registration closes when all the spots are full. Cost increases after April 1st. Financial assistance is available, please do not allow cost to prevent your child from attending.
Step 1 of 3: Complete the 2018-2019 ANNUAL EMERGENCY MEDICAL CARE FORM found at this link: http://tinyurl.com/2018-2019StCharlesMedicalForm (If your child went on our fall retreat or has participated in some of our other events, you have already completed this form,  skip to step 2)
Step 2 of 3: Complete the St. Charles Spring High School Teen Retreat Registration Form found at this link:  https://tinyurl.com/entertheheartofjesus
Step 3 of 3: Complete the St. Felix Liability waiver (attached to downloadable form above) and return by delivering or mailing to the St. Charles Parish Office (open weekdays  8:30am-4:30pm, address below) with the $80 registration fee (after April 1, the registration fee is $90).
ATTN: St. Charles Youth Ministry, 4916 Trier Road, Fort Wayne, IN 46815 
Retreat Details:
St. Felix Catholic Center 1280 Hitzfield Street Huntington, IN 46750
Emergency Contact Number: (260)207-4677 Individual in Charge: Stacey Huneck Cost: $80 until April 1st (pay with attached St. Felix waiver) Check-In at the Gathering Space at 5:40pm. Mode of Transportation from parish to retreat center: bus Return to St. Charles Youth Center for 11:00am mass on Sunday, April 14. Families are welcome and encouraged to join for Mass.
Packing List, please pack light: • Snack to share (we will collect these before you get on the bus) • Refillable water bottle (this is not just a suggestion) • Weather appropriate clothes (we may spend time outside, so bring a jacket)  • Walking shoes and socks • Modest church clothes for Mass (we will all wear our t-shirts on Sunday) • Modest and comfortable clothes for retreat duration (please nothing tight or revealing...think: would I feel comfortable wearing this in front of Jesus?) • Pajamas • Journal, Bible, Rosary • Toiletries (tooth brush, shampoo, etc.) and towel for showering • Any over the counter or prescription medications need to be checked-in prior to departure with a parent's signature. See attached form. • Beds, sheets, and blankets are limited; some students will have to bring their own sleeping bag, pillow, and sleeping mat. We will contact you if this is necessary.
Questions? Contact Stacey Huneck