No public Masses. All Confessions, Stations and Rosaries are cancelled. (watch Masses with bishop on youtube @diocesefwsb)
Religious Education Newsletter
April 3, 2020
Dear RE Families,
Hopefully this finds you all well and healthy!  I hope you are all hanging in there too!  This was such a strange Spring Break week, but hopefully you all made the best of this current situation.  
Yesterday, it was stated that schools will remain closed for the rest of this school year...bummer!  So, that means we won't get to meet as an RE family the rest of this school year either.  As plans are made, when we can get back together in group settings, we will notify you all of those activities, especially regarding First Communion!
As a reminder, our very own Bishop Rhoades will be leading the Stations of the Cross today at 7pm.  Try join in him in this most meaningful prayer.  All are encouraged to "join in this great prayer which our diocese will offer up to the Lord for an end to the coronavirus epidemic, relief for those who are afflicted and eternal salvation for those whom the Lord has called to Himself." -Bishop Kevin C. Rhoades. To join, visit the Diocese of Fort Wayne-South Bend YouTube or Facebook pages. Search "@diocesefwsb."  
It is weird we are heading into Holy Week without any services/Masses in our Church.  Thankfully, we have so many inventive people and parishes that we can participate from our home in this most holiest of weeks.  The schedule below was put out by the Diocese about the livestream of the Masses during Holy Week.  During this time, prayer is the most powerful thing we can do!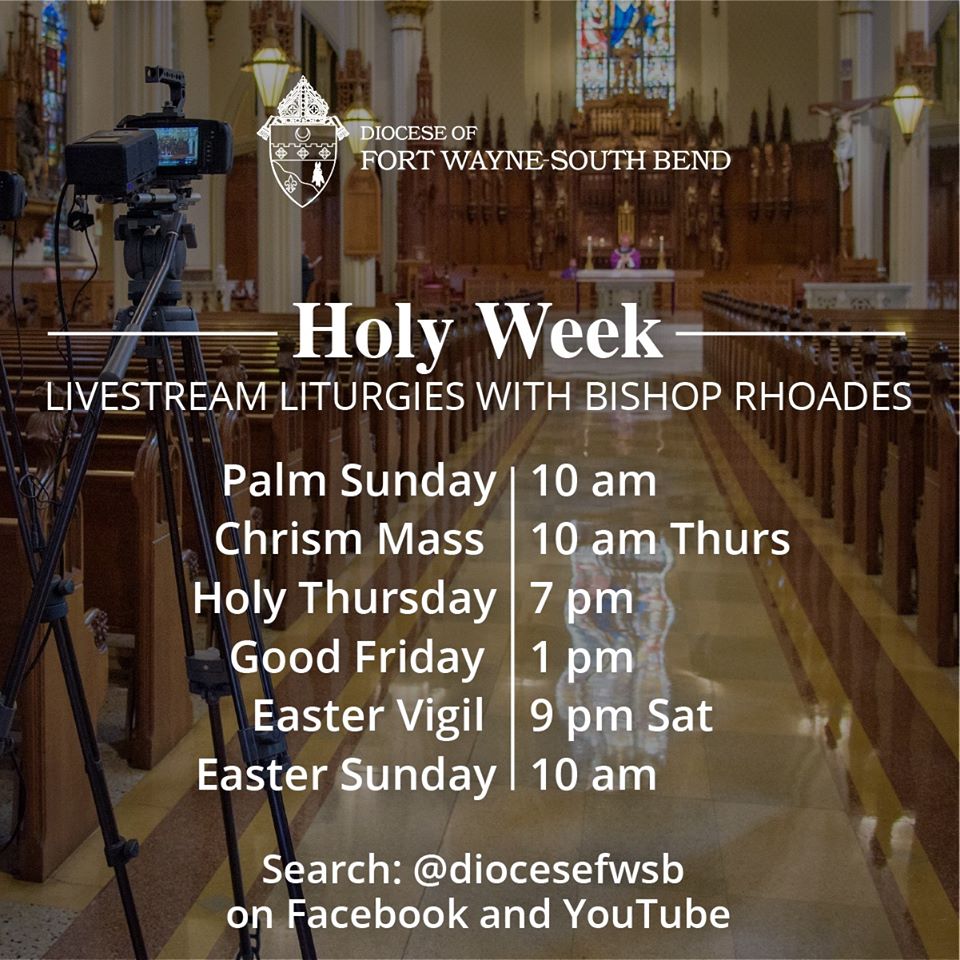 To join, visit the Diocese of Fort Wayne-South Bend YouTube or Facebook pages by searching for "@diocesefwsb." These liturgies will also be broadcast on Redeemer Radio. Other Holy Week opportunities can be found at diocesefwsb.org/holyweek
Parish fliers and social media graphics to promote Holy Week liturgies can be found here.
We hope you all take a few moments to learn about this week we are entering, as well.  In all of our textbooks, there is a Holy Week chapter, it is short, but it goes through the importance of this week!  Sit down this week and discuss it with your child.  This chapter can be found in the "Seasons" section in the front of the text.  If you have multiple children, they can learn from each other as the chapters are different in each text by grade too.  I hope all our students will take time to reflect on this most holy week!
As we head into Palm Sunday this weekend, we recall Jesus entering the city being welcomed by people waving palm branches.  Since we won't have actual palms in our hands at this time, the following palm activity is a neat one to make palms in the home.  Get out those water colors and have fun as a family--no water colors, use crayons, markers, or colored pencils!  https://www.catholicicing.com/printable-palms-for-palm-sunday-free/?fbclid=IwAR11-g4NZZ-di239AAAbOyZUe50LYjocHsuKqb8qF_XPlFY5WqKV9vKpk_c
Registration for 2020-2021 is attached.  We usually send this home with the students, but this year, that isn't possible!  So, I kept it as a Word document so you can delete the lines and type in the information.  Simply attach it to an email back to us.  No payment is needed at this time for next year, but the registration form will help us plan supplies.  Costs remain the same again thanks to our awesome parish--$70 for one child, $130 for two children, and $190 for three or more!  
All of these notes and the registration form can be found on the parish website too!  Click on Faith Formation from the drop down menu and then click on Children's Religious Education.  Please know our catechists, assistants, and all of the St. Charles staff and community are in prayer with you during this time.  
Blessings,
Amy Johns
_______________________
March 27, 2020
Dear RE Families,
Well, another week has gone by!  While still being quarantined in the home or as our governor put it "hunkering down" at home, I hope you have found some light in this time---family time!  Hopefully you have talked, played games, gotten outside when the weather permits, and spent time with the Lord in prayer.  I know I am starting to get a little stir crazy, but I am still trying to find the good points in all of this--getting to read books that have piled up, praying and going to Mass through live streaming, innovative ways to do eLearning and support students/staff at my high school, and Face Timing, lots of Face Time with family and friends!
Know that I think of all of our RE students and families daily--especially on Monday nights when we should be in class together.  I hope you are all healthy and hanging in there!  Know that your whole RE family (catechists, assistants, our priests, Lisa, and myself) are thinking of you all!  You are in our prayers!
This week, spend some time learning about the Faith!  This is the lesson that would have been taught--take time to go through the links with ideas to learn more about this season.  We are getting closer and closer to Holy Week and Easter during this Lenten season, continue to learn and grow in our great Catholic Faith!
Lessons for this week:
Grades 1-6 = Lenten Activity this week.  Check out some of the sites below to learn more about this most special season!
Grade 7 = Do a Lenten activity--You would have done Theology of the Body Chapter 5, but we will move that to your 8th grade year to cover.  Go through the Power Point in #2 below.
Grade 8 = Chapter 16
Lenten Ideas:
1.  Activities:  https://www.sadlier.com/religion/blog/celebrating-the-liturgical-year-with-your-students-teaching-about-lent
2.  Power Point to Learn About Lent, just read through and learn:   http://www.authorstream.com/Presentation/loyolapress-2061433-making-lent-simple-easy/
3.  Other Activities:  https://www.thereligionteacher.com/lent-activities/
Thank you to those in 7th grade that got me your Confirmation Sponsor Certificates by the 23rd due date.  I have a pile of them printed and ready to be recorded.  However, I still have several missing.  If you are one that I don't have, please be sure to follow up with your sponsor!  I need those in--while I know your sponsor can't take it to their church, they can still send it via email to their church.  If they are a St. Charles parishioner, they only need to fill out the top portion above the stars and return to us in the RE office.  Mailing directions are at the top of the certificate.  This is the first thing that needs to be done in this Confirmation process!
Today at 1pm EDT the pope will be giving a special papal extraordinary blessing for forgiveness.  Pope Francis announces extraordinary Blessing with the forgiveness of all sins TODAY, Friday, March 27, 2020.  After, prayers and adoration of the Blessed Sacrament, Pope Francis will give a special Blessing, with the possibility of gaining the forgiveness of all sins, the Plenary Indulgence, for all those who listen to it live at 1:00pm through the various forms of communication. 
It is possible to follow and receive the special Blessing on
Friday March 27th at 1 PM (EST)
https://www.vaticangift.com/content/16-pope-francis-special-blessing-vatican-live
Participate in a live Stations of the Cross with Bishop Kevin C. Rhoades on Friday, April 3 at 7 p.m. All are encouraged to "join in this great prayer which our diocese will offer up to the Lord for an end to the coronavirus epidemic, relief for those who are afflicted and eternal salvation for those whom the Lord has called to Himself." -Bishop Kevin C. Rhoades. To join, visit the Diocese of Fort Wayne-South Bend YouTube or Facebook pages. Search "@diocesefwsb."
While we can't participate in the Mass together as a Church community right now, we can go to Mass with Bishop.  Participate in a livestream Mass with Bishop Kevin C. Rhoades every Sunday at 10 a.m. To join, visit the Diocese of Fort Wayne-South Bend YouTube or Facebook pages. Search "@diocesefwsb."  Other Mass options, diocesan directives, and more can be found at www.diocesefwsb.org/covid-19.  Many other local priests/Churches are streaming Masses as well.  Below is the prayer for spiritual communion.
Other TV Mass options:
7 am: WPTA 21.3 (MyTV) | Frontier 9, 509 | Comcast 252, 1024, 1172 | DirecTV 22
10 am: WISE CW 33.1 | Frontier  6, 506 | Comcast 19, 1033 |  DirecTV 33 | Dish 34
10:30 am through April 12: WFFT 55 | Frontier 5 | Comcast 12 
Continue to hang in there!  Prayers and thoughts are with you all!
Blessings,
Amy Johns
_____________________________________________________________
March 20, 2020
Weekly Faith Lesson
Dear RE Families,
During this crazy time of turmoil, confusion, and anxiety, I hope you are relying on your faith to get you through it!  Prayer is such a powerful tool and I know if we all storm heaven with our prayers, we can overcome this pandemic that has taken over in our world.  It was wonderful yesterday to join in the worldwide rosary with Pope Francis--it allowed me time to pray and be quiet with God.  Praying the rosary is a great way to take that daily "breather" to be with God.
At this time, Governor Holcomb has closed all schools through May 1, meaning we, in Religious Education, would only be able to come back for our May 4 class.  It is my hope we will get to see our RE kiddos before the end of the school year!  I am keeping my fingers crossed.
I  know many of you have questions regarding First Communion.  I talked to Fr. Tom today and we will come up with a schedule of how to finish the curriculum, do bread making, have a banner making, and practice reception of Communion, once we get cleared to gather back together.  To date, the students have covered the parts of the Mass, but there are many other components to completing the preparation for First Communion that we would like to finish with the students.  It is on our minds and more information will come once we have a clearer picture as to when we can return to normal operations and after consult with the teachers.  So, as for now, the May 3 original First Communion date is canceled and will be rescheduled for a later date.  
For those in 7th grade preparing for Confirmation, just a reminder that your sponsor certificate is due Monday, March 23.  Please follow up with your sponsor to make sure he/she turned it in.  They can email, drop it in the mail, or fax it to us.  Contact info is on the top of the certificate.  Check the attachment on Monday's email if you need a new certificate.
Also 7th graders, we will be teaching the Theology of the Body, chapters 5-8 in the spring of 2021.  So....do not lose your book!!  Keep it in a safe spot to return to the RE office in the fall to hold on to it until you need it in 8th grade. 
In addition to adjusting plans and our calendar, we do still want the RE children to continue to grow and learn about the faith.  Since we can't attend Mass in person at this time, it might be great to use that Sunday Mass time to continue your child's religious studies by reading and doing the activities in the chapter together!  Each Friday, I will send an email out to all of our RE families with a note and the chapter to work on for the week.  This will keep your child continuing through their religion curriculum and keeping them prepared for next year.  I will also post this email in our newsletter section on the parish website.
So, without further delay....here is this week's chapters!  Set aside time to spend learning with God!
Grades 1 and 3-6 = Chapter 19
Grade 2 = Chapter 21
Grade 7 = Chapter 16 (regular book)
**KEEP YOUR TOB BOOK IN A SAFE SPOT TO BRING BACK IN FALL**
Grade 8 = Chapter 15
I will send another note next Friday!  Know that my prayers are with you all!  Stay safe, healthy, and keep those Lenten promises!
Amy Johns